The first serious rally in Europe this year took place in Austria

About 4-5 years ago, I created two Facebook pages. One was called – "Už posūkio", and the other – "Behind the corner". These were the prototypes of the current Lithuanian Ralio savaitė and Rally Week. It's just that both had only one, rather short post announcing the Jännerrallye of some years ago. A few followers, a few "Likes" and that's it because I wanted to make another post about Henri Toivonen. I never did, and those pages eventually disappeared. Until Ralio savaitė and Rally Week appeared.
Even though I have never watched this rally, it still has something special for me. Perhaps because it is usually the very first serious rally in the new year. Maybe because it's the Austrian Monte-Carlo. Maybe because Austrian rallies are endlessly interesting due to their roads and terrain. In other words, there are many reasons.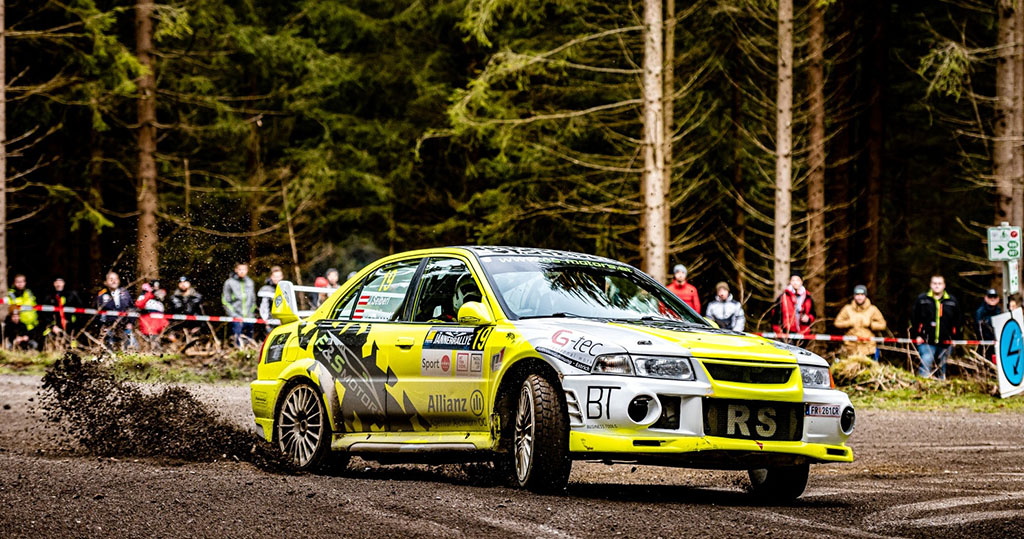 Jannerrallye translates very simply – January Rally. There isn't much action in the first few days of the new year, with just a few sprint-type races in Scandinavia. Therefore, this first round of the Austrian Championship is getting quite a lot of attention. This event has been taking place since 1969, with various longer or shorter breaks. Currently, it is only a round of the Austrian championship, but previously this rally was included in the European and Czech championships. Due to its date and geographical position, the Jannerrallye is very often reminiscent of the legendary Monte Carlo. The action takes place in mountainous areas on asphalt, but often snow and ice can be found in the same stretch without asphalt. Therefore, the choice of tires and the calculation of where to drive to the maximum, and where to drive more carefully, determine the winners and losers of this rally. The legendary sections Pierbach and Liebenau are already stuck in the memory of both participants and spectators due to unforgettable adventures and views.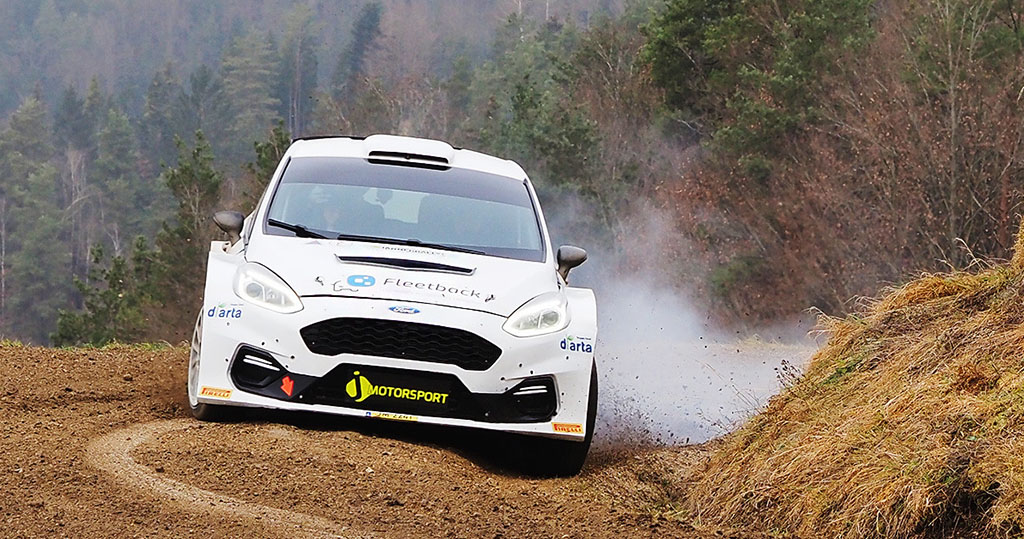 The global pandemic brought a two-year break to this rally, so this year a number of participants who missed this rally gathered in Freistadt. Czechs and Germans arrived, as well as one Frenchman and one Luxembourger each. The last two received special attention. Frenchman – Adrian Fourmaux, will drive a Ford Fiesta Rally2 car instead of Ford Puma Rally1 this year. So, it was great training for him before the upcoming Monte Carlo. Gregoire Munster from Luxembourg came to Austria with the same task. This year it will be under the same M-Sport banner as Adrian. Both of them drove Ford Fiesta Rally2 cars borrowed from various teams.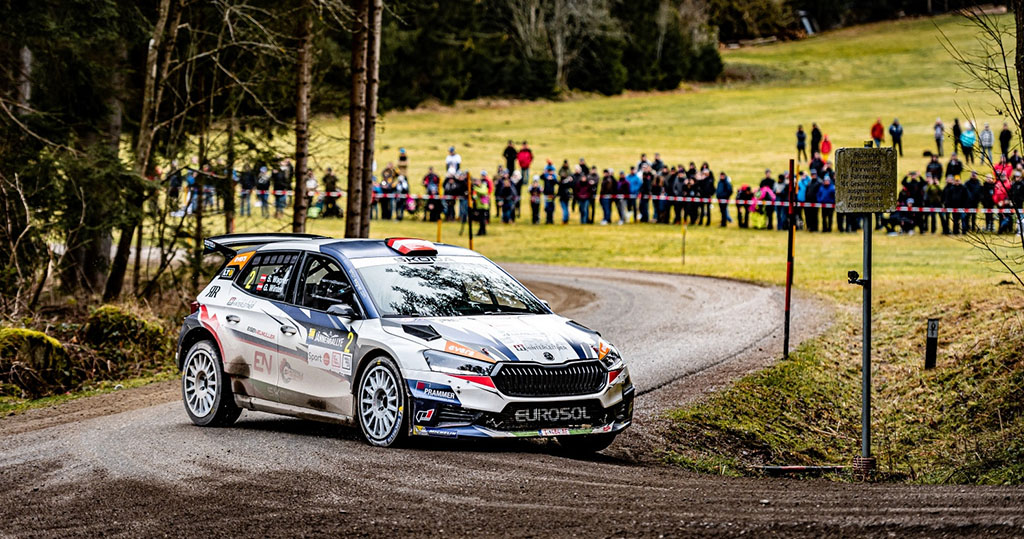 Herman Neubauer and Simon Wagner were among the locals who had to get involved in the fight against the factory pilots. These two drivers have been competing in the Austrian championship for a long time. Simon's brother – Julian – also got into the fight. The biggest news – Simon Wagner got a brand new Škoda Fabia RS Rally2. Austrian rally legend Raimund Baumschlager brought the same one. It seems that Škoda Motorsport is fulfilling its obligations faster than we all expected.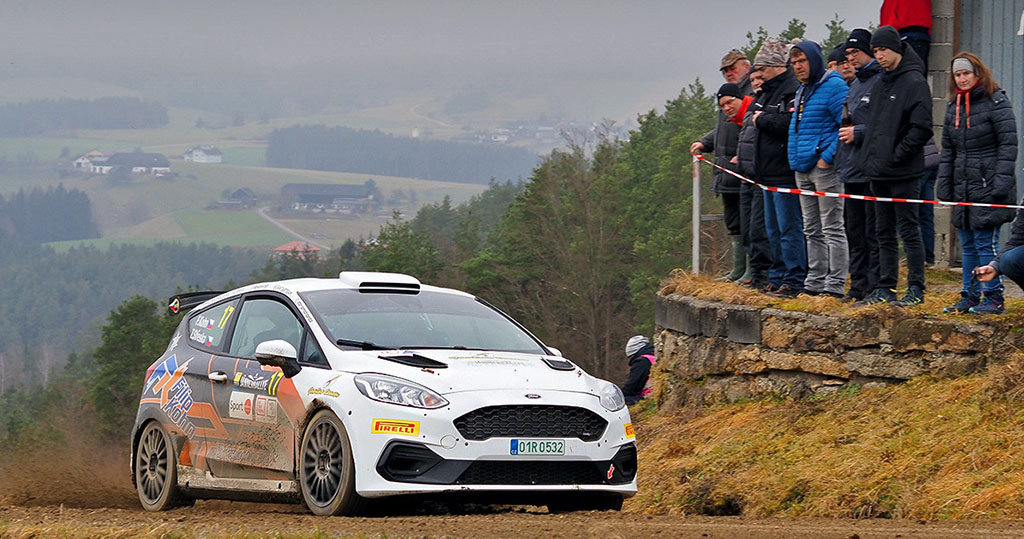 A very diverse fleet of cars fought for the lower positions. It was possible to count almost all Mitsubishi Lancer Evolutions from three to ten. The Lancer's guts were packed into 6 Proto cars, among which was an Opel Corsa Proto driven by the talented Czech Jan Černy. One Mazda Proto ended its existence on the shakedown. Also, it took the hedge with it and significantly dented and scratched the facade of the beautiful white house. Such rare specimens as Škoda Fabia S2000, VW Golf 1 and 3, Lancia Delta, Opel Ascona B, Audi Quattro, and even diesel Subaru Impreza appeared. A list of cars for everyone's taste.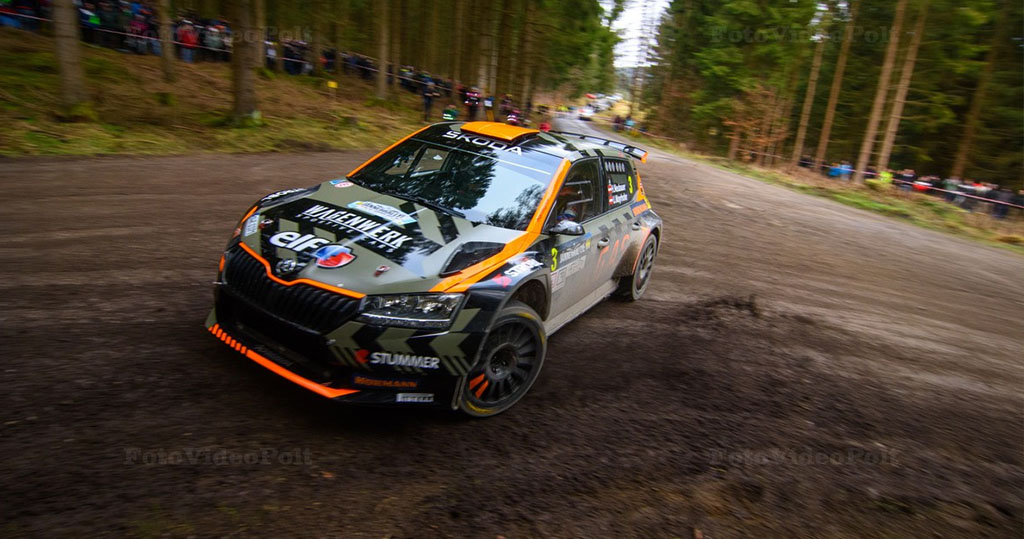 Unfortunately, this January spared the usual attribute of mountains – cold, snow, and ice. Green-brown tones mixed with the dark asphalt surface, on which instead of ice or snow, drivers skied on gravel and puddles. In certain places, there was so much gravel that car trajectories did not look like asphalt ones. It was especially difficult for the crews that started at the back. Among other things, the fog came from time to time.
Candidates for rally winners have already decreased in the first special stages. Gregoir Munster rented an older generation Ford Fiesta Rally2 car, which broke down very quickly. This is the same specimen that broke down on Pierre-Louis Loubet a couple of months ago in France. Not a very successful car. On the other hand, the newer generation Ford Fiesta Rally2 with A. Fourmaux at the wheel had no problems and after the second stage of the rally did not give up the leading positions to anyone else. Admittedly, Adrian couldn't relax, because Simon Wagner with the new Škoda Fabia RS Rally2 was showing very similar times in the sprints all the time. Having gained experience abroad and planning to participate in the European Rally Championship, Simon chased Adrian throughout the rally, but was unable to overtake him. Instead, his old rival H. Neubauer was no longer able to keep up with Simon's new pace and was more than a minute behind. In the last special stage, G. Munster reminded himself by winning the last section of the rally. Gregoire tested various tires in preparation for the Monte Carlo Rally. He might have gone a bit overboard because even though he drove under the "Super rally" rule on the second day, he was disqualified in the final results due to… tires. And many played with the tires. Despite the fact that it was not cold, some still put on partially studded tires, others cut grooves in the tires, and others took other methods to help deal with wet asphalt and gravel on it.
Among the pile of R5 / Rally2 cars, the Czech Filip Kohn in the Ford Fiesta Rally3 managed to finish at high 11th place. And a little lower – a mixture of the most versatile Mitsubishi Lancer Evolution, various Protos, and other more interesting cars. Fastest FWD car – Lucca Waldher with Opel Corsa Rally4, who finished 18th overall. The highest-finishing rear-drive car is an Opel Ascona B from the Czech Republic with Jiří Petrášek behind the wheel.
---
---
---
Photos – Ivo Nesrovnal, Jan Šmerda, Thomas Polt, Vit Bezdekovsky