Interview with Swedish Lars Stugemo about his charity initiative for cancer research in Sweden
---
The interview with Lars Stugemo also has a personal flavor. However, the topic discussed touched many people. And I'm no exception.

Alcohol took my father's life almost 30 years ago, and cancer took my mother's life nine years ago. That's why this autumn while watching and photographing a special stage of the Lausitz rally, my eye was quickly caught by a rather large #FkkCancer sticker on the hood of a Hyundai i20 R5 driven by Swede Lars Stugemo. I understood that there would probably be some interesting initiative here, and it turns out I was not mistaken.

After returning to Lithuania, I thought of doing an interview with Tom Kristensson, the winner of two Lithuania Rally Championship events and the 2022 Polish Rally Champion from Sweden. When sending the questions, I also asked about #FkkCancer – maybe he has an idea of what this is all about. It turns out that he not only knew what is all about but also was one of the ambassadors of #FkkCancer. But he directed me directly to the author of this whole idea – Lars Stugemo. The same driver on which car I saw the #FkkCancer sticker in Germany. And Lars happily shared what he was doing with the rally community.

And I want to share it with you. The motto of Rally Week is "rally from various angles". Here is another, slightly different angle of the rally for you 🙂

Vilius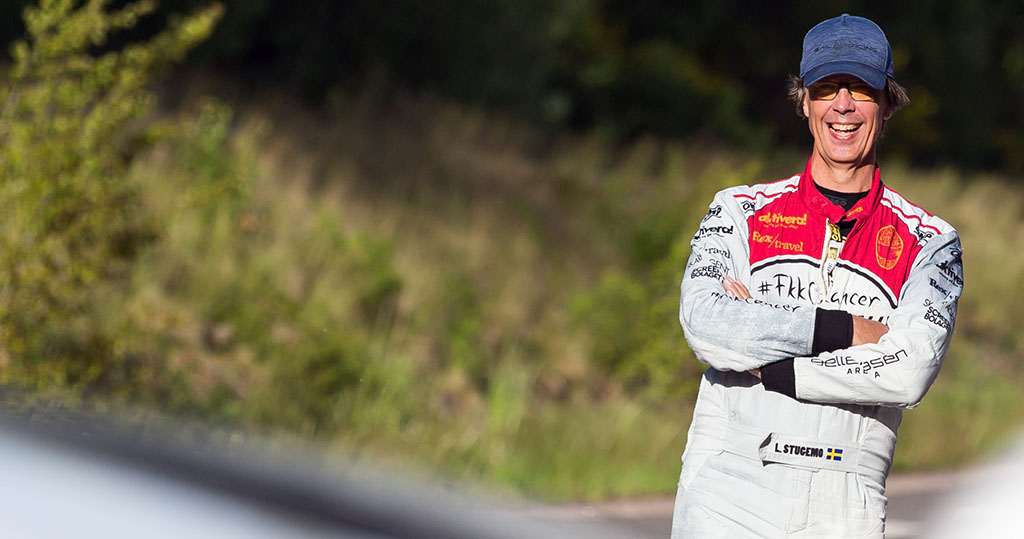 How does the #FkkCancer project start? What was the main idea behind it?
In all honesty. It all started when I felt that the Swedish rally community could do, on a voluntary basis, a bit more than just discussing horsepower, brake pads, gear ratios, damper clicks, etc. I wanted to raise awareness of the terrible disease cancer is – and I started out by selling a few tee shirts and stickers. Now we have raised ca 30 000 euros to research. 
The first order of stickers was like 50 pcs – I thought that was quite a lot – now we have sold 1000 pcs of the original version. In addition, we have sold t-shirts and race underwear, and have cooperations with several rally drivers/teams including Emil Lindholm (double FIA world champion 2022), PG Andersson (Swedish Champion last three years), Tom Kristenson (Polish Champion 2022), and so on. In 2022 we had 5-6 ambassadors of #FkkCancer who helped out in a very good way.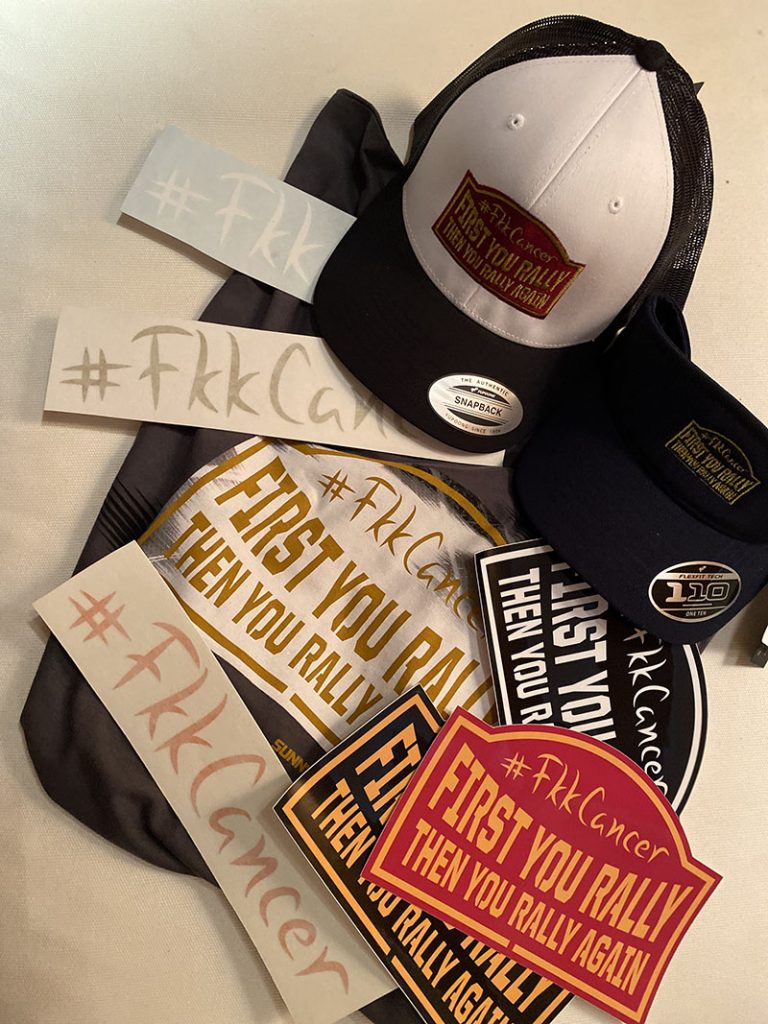 ---
#FkkCancer and rallying. How does rallying the community help to spread the word and raise funds?
Basically, we sell merchandise – and encourage the rally community to take part in fundraising. Stickers with #FkkCancer on rally cars are quite common in Sweden these days actually. But we also sell tee shirts, occasionally hats, and other stuff.
So far we have reached 30 000 Euros and I donate to three different cancer funds. The Swedish Barncancerfonden (focusing on children), Cancerfonden (a more general fund), and Lions Cancerfund in Gagnef (because my daughter Vilma's grandparent live there).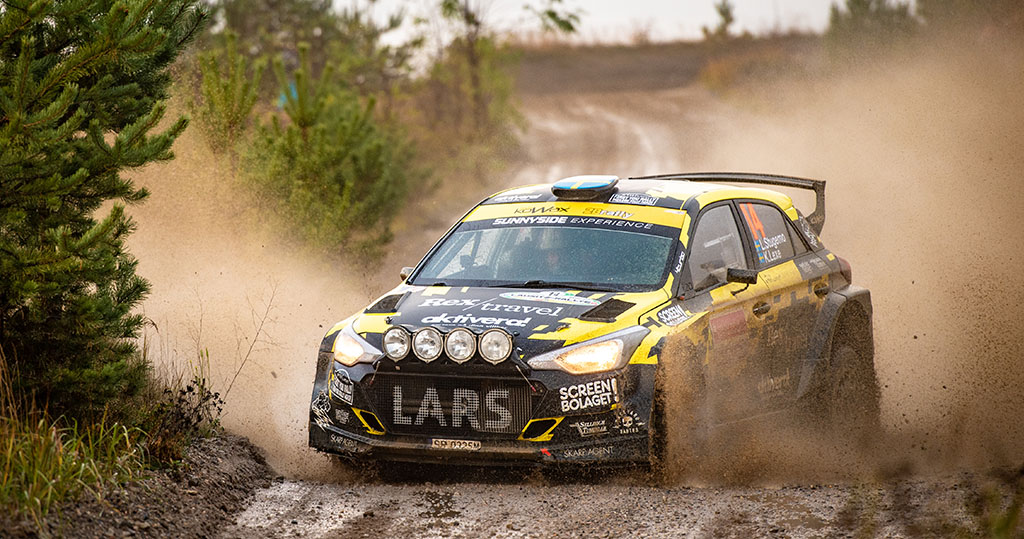 ---
How did this project spread? Is it more on a national level or its fully international?
We started very low scale – with just a few stickers – and I always have it on my rally car liveries. But over time several other teams and drivers have been promoting the campaign. I also spend quite a lot of time on my Facebook Sunnyside Experience where we spread the word – hopefully in a positive and optimistic way.
---
Does #FkkCancer gets attention when you drive rallies in other countries, like Finland, Germany, Italy, and Baltic countries?
Mostly in Sweden but lately also in Finland, Italy, and elsewhere. But it's still basically in Sweden. 
---
What is the feedback from those, who this project is helping?
I think everyone is, and have been, very supportive. After all most of us, unfortunately, have a friend or family member who has or has had the disease. My dad died way too young from cancer back in 2001 – and that's actually when I started with motorsport. Life is short and you need to live it to the fullest. Follow your dreams and passions. And at the same time to spread some optimism and hope in the rather dark and gloomy world we see around us today,
So all in all #FkkCancer…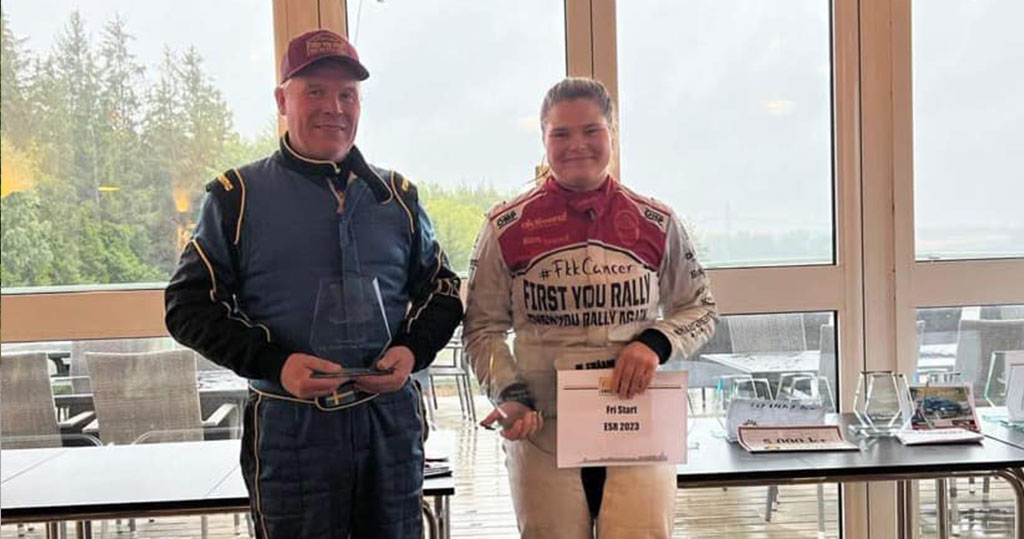 ---
Could you share some interesting or heart-touching stories from this project?
I then it is interesting how we, when starting, ordered 50 stickers. Everyone said – great idea but don't hope too much. Today we have sold 1000+ stickers of the original #FkkCancer… Also, I have had several rally people just donate some money to #FkkCancer when they have some relative or friend that has suffered, or even passed away. That's very nice – even if it's also very sad of course. Cancer is a totally evil disease. 
Also, a very interesting story is about Ted Malm – a Swedish rally driver/entrepreneur who is diagnosed with pancreatic cancer. He really fights the disease, builds rally cars, runs Volvo Euro Cup, etc. Anyway, he reached out and wanted to help, and it turned out he wanted to do the Rally Sweden Historic in a PV. So, I helped him to fund the Volvo PV – and he set out to do the event with his wife Katharina as co-driver. Then comes the pandemic… Rally Sweden canceled. But Ted and his wife fought on, and eventually, they finished Rally Sweden Historic in Umeå in February 2022 in good order. One less thing on their bucket list… The PV had a totally awesome livery with #FkkCancer all over. (Sadly some old farts in Sweden tried to ban the car because of too much livery….)
Please check out Malms Motorsport on Facebook 🙂
---
How has this project helped you grow personally? 
Well. I don´t know really – I just do things that I feel are right – and this felt like a no-brainer… Though I'm very happy with the support we get from the motorsports community – that makes me continue.
---
You can contribute to this project on the Sunnyside experience Facebook account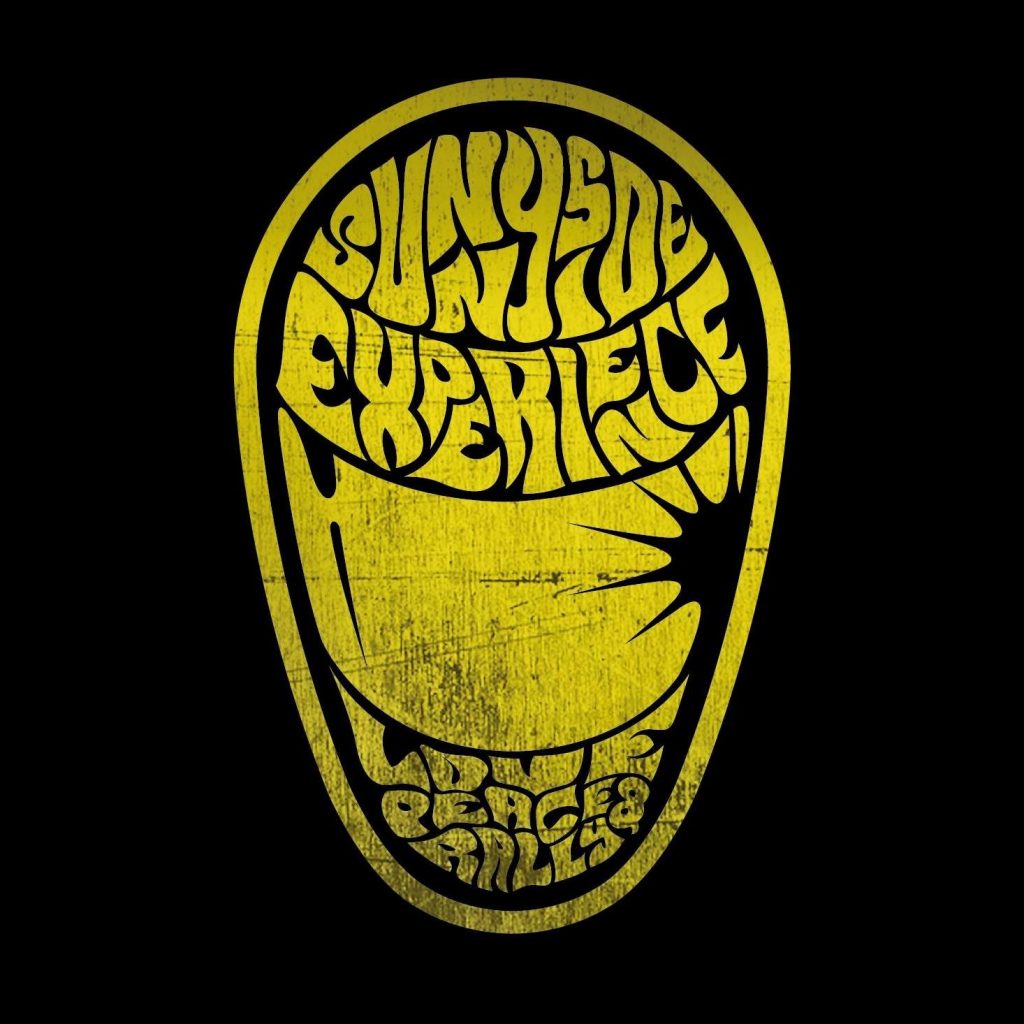 ---
---