Interview with Martynas Samsons about the weekend in northern Latvia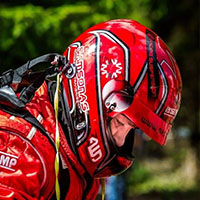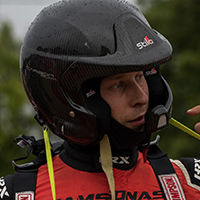 Tell us about the weekend in northern Latvia. How was the roads, atmosphere, how did you feel?
At the beginning of the year, we didn't plan much for Sarma, because after the relocation and the start-up of a new factory, the race budget became a bit "slippery".
But knowing that Samsonas Rally Fivemiletown 2022 we have to drive at any cost, we decided to participate in Ignalina. And after Ignalina, we could no longer resist the temptation to get some fun in Sarma 🙂
Roads are the same for all, and for us who drive in a rally probably shouldn't matter what the road is. But taking into account the car we were driving, we would have been much more comfortable with fast sections, especially without intersections. Well, unfortunately, it was only SS1/4 was quite fast. The other two stages were very slow, twisted. It takes a lot of second and third gear to drive in stages like this. So it is difficult to fight with FWD cars not to mention AWD. We were asked in the evening to forecast the results, and I guessed correctly that on SS1/4 we should be fine, and on 2/5 and 3/6 we will get a beating.
The atmosphere is clearly good because there was freeze in the night, so the road has become very good to ride, the weather is great, thousands of fans 🙂
Only the were some misunderstandings with the judges. They ordered to remove "Rally Utena" stickers. Of course, I did not agree. They both went in the evening and followed us and photographed us all day. One judge in the morning ordered to remove stickers quite strictly, but when asked what the reason was, he couldn't say anything. In the evening I asked another judge what was going on, and he replied that there was an unwritten rule not to advertise another event. But for example, when we drove in both Sarma and Talsi in 2015 and had Rally Utena stickers and there was no trouble. In the end, we received a fine for not having an LRC sticker on the window, although during the technical inspection we were told that we did not need it because we are not driving in the championship.
About ourselves – we just drove and relaxed. No high stress. Well, I couldn't get pacenotes written well on SS3, because we got into a big traffic jam both times, and there wasn't much space to stop, so I had to drive slowly and in the queue, so I knew that there will be a few surprises before starting the stage 🙂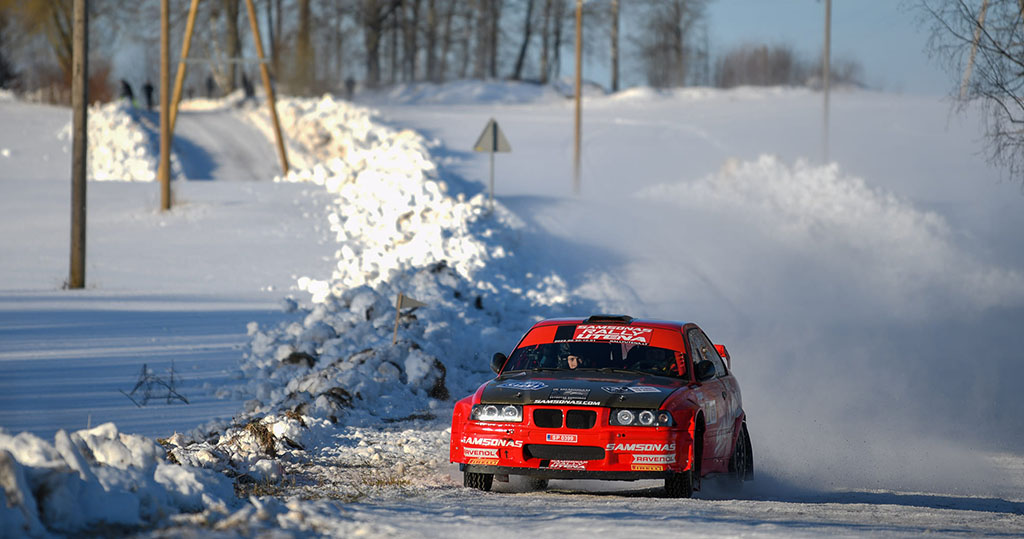 ---
For what purpose did you start in the Sarma Rally? Test, have a good time, improve your car?
Well the main goal is to stay in shape, because a busy season awaits 🙂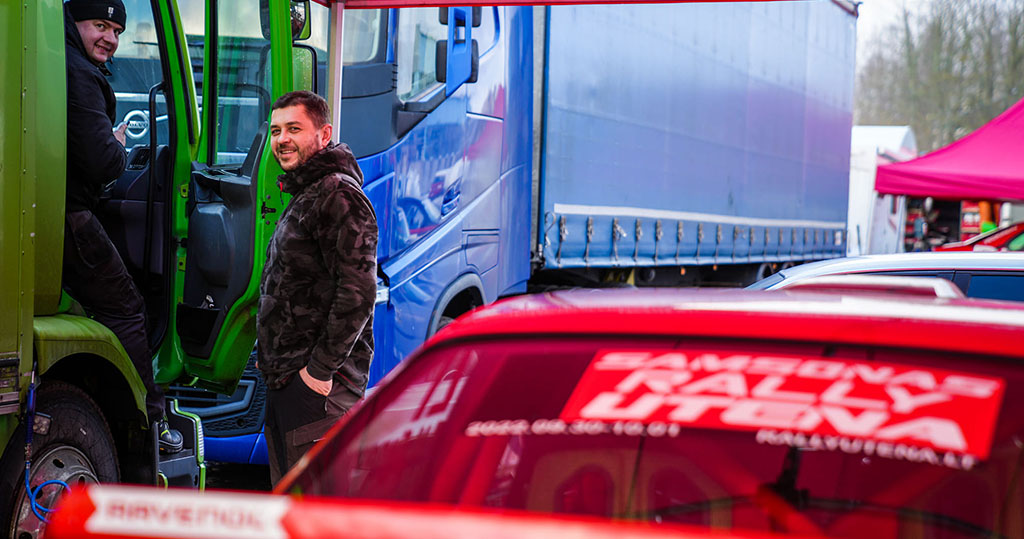 ---
Your times were the best on the SS1/4 . How was the Kamalda special stage different from the others?
Well, as I have already said, the SS1 / 4 is fast enough, although there were quite a few intersections there were the fewest of them compared to the other two. And anyway, the high speed was convenient for the RWD car. If my co-driver Ervinas laughs at the finish, it means it was good 🙂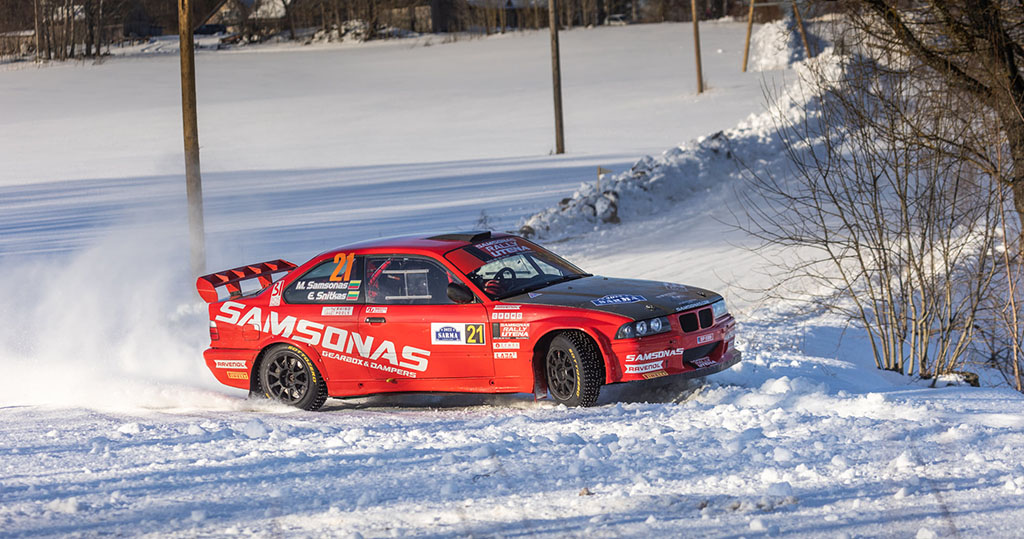 ---
Do you feel as good on snow as you do on gravel?
Same 🙂 Maybe you don't get to cut corners in the winter because of snowbanks, but it's the same for me 🙂 In winter, as in summer, the surface can be very different, and our job is to run as fast on any surface.
---
Do snow tires wear the same speed as gravel tires on a car with such a powerful engine?
It depends on whether the gravel is appearing out of snow or not. If the gravel is not reached, the new Pirelli WJ tire practically doesn't wear 🙂
Our E36 has an S54 3000cc engine, power about 380ag, rewing up to 8600rpm. The weight of the machine is about 1120kg.
---
How did the roads change during the second run? It is easier or harder to drive?
Well SS1/4 hasn't changed much. But 2/5 and 3/6 got worse for us. In the slow parts, we had to drive even slower because there were deep ruts, and we had nothing left but to move through them. Because if you try to drive fast, the rear wheels get off the ruts, and then all that remains is to try to get out of soft snow. That thing was a little disappointing.
---
You are running in the winter with the BMW M3. What equipment do you plan for the summer?
We run M3 because this is the only running car in our place now 🙂
We are preparing the same N5 equipment for summer, only in a different body. Vitalijus / Uno Transport should bring a new Škoda Fabia body from Spain soon.
We are fundamentally changing the chassis because our Fiesta weighed about 40kg more than it should. And in making the new Fabia, we've already worked with RMC, and together we're planning what to do, what materials to use to lose weight. Well, and it is something more interesting 🙂 We are also looking forward to a new steering rack from Italian Sportech, which produces these things for all R5 and WRC. It is very much hoped to end those troubles with the steering. We will also try to move from the Subaru original center differential to the system used in the R5. We will test and compare both systems, but the clear goal is to discover more grip.
---
Where is the next start abroad expected?
Upcoming start in Ireland February 26th. with E36. Then Portugal on April 1st with the Mitsubishi Lancer Evolution IX. And I really hope to be in Spain on May 7th. with N5 car.
---
---
---
---
Nuotraukos – Rallyemotions.lv, Jancisko Media, Krists Andersons, Alfonsas Rakauskas Photography